Featured Local Businesses
March 23rd:-
Due to restrictions relating to the Covid-19 pandemic we have had to suspend this promotion of local businesses for the time being.
WEEK 3: Our business featured this week is:
RAWLES MEAT MARKET
Main Street
Edgeworthstown
043 6671800
Rawles is a family run Butchers stemming from 3 generations of butchers. John opened his doors in Edgeworthstown in 1994 where he takes pride in producing his own beef, rared and slaughtered locally reducing the carbon footprint. Lambs are sourced locally from the farms of Richard Denison and Matt Kilduff. Pigs also come from Michael Gillen's pig farm in Glen.
John also produces his own bacon, rashers and sausages. Where possible he tries to obtain local produce such as jams and local honey. They have a vast array of vegetables, sauces and everyday items.
For all your foodie needs drop into Rawles Meat Market.

WEEK 2: Our business featured this week is:
Teresa's Hair Shop,
1 Wolfetone Court
Edgeworthstown
Phone No. 043 6671426
Opening hours: Tuesday to Saturday 9.30 a.m. to 6.30 p.m.
Teresa's Hair Shop is owned by Teresa Rogers. A modern unisex salon with ergonomically designed chairs and vibro massage basins for your comfort.
There is a free customer carpark at the rear of the salon and is wheelchair accessible. They are open Tues to Sat, 9.30 to 6.30 with late opening on Fri, accomadating with late and early opening on request.
A Schwarzkopf professional branded salon who are also stocklists of GHD and yodeyma perfumes.
With complimentary tea and coffee with every service a trip to Teresa's is always a treat and the friendly experienced staff are highly skilled and fully qualified.
Some of their wide range of services include cutting, colouring, high and low lighting,balayage, blow-dries, intensive conditioning treatments and custom after care advice using award winning Schwarzkopf professional products.
Payments can be given by cash, Debit/Credit card or a payment plan (on GHD stylers)
In reward of your valuable custom they offer a loyalty card system. Check them out on Facebook and Instagram
Beautiful hair stats with a phone call 043 6671426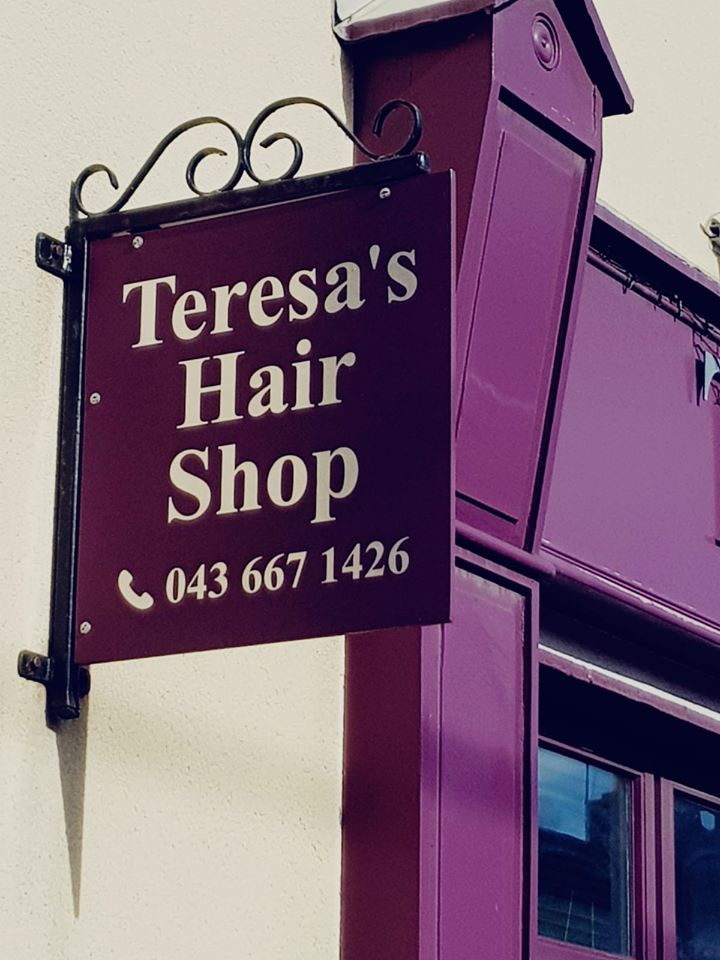 WEEK 1: Our business featured this week is:
Bia Deas, Pound Street, Edgeworthstown
Business Phone Number: 086 8801081 Presently we open from 0800 to 1600, Monday to Saturday
During the summer months we also open on Sundays

Bia Deas, owned by Seamus and Joan Gilchriest, and operating for the past 5 and a half years. They provide home cooked foods- all day breakfasts, lunches and dinners, all prepared and served by their excellent staff. Sandwiches are freshly made to your preference.
They have free Wi-Fi, debit/credit card machine, great coffee and are open 7 days a week. Their specials change daily and offer a hearty meal in a relaxed and welcoming setting. Or if it's just a tea or coffee and a sweet treat you're after they can happily oblige.
Bia Deas offers a warm welcome and good food in equal measure.
Directory - Local Businesses
Buy local whenever possible and ensure the success of our local businesses.
Why go elsewhere if a local business sells the product or service you are looking for?
If you own or run a business not listed or wish to amend or add to a listing e-mail John Cahill at cahilljohn23[at]gmail[dot]com with description and contact details to be included – listings are free – this is a community initiative to link local consumers with local businesses, services and trades.
Please be advised that inclusion in this listing cannot be taken as an endorsement of any business by the Parishes of St. Mary's, Edgeworthstown, Rathowen, Streete.