Let Us Do All The Work Virtual Assistants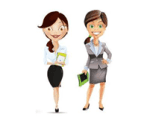 Long Business Description
We offer a Professional "Virtual" Service to Businesses
Services Provided:
Administrative, Personal Assistant, Secretarial, Databases, Website, Social Media and any other tasks that can be done Virtually (meaning we will not be physically based at your place of work)
LET US DO ALL THE WORK relieves you of cumbersome and time-consuming responsibilities so you have time to focus on the more important issues as a company owner/manager.
LET US DO ALL THE WORK works as a support for you.
By outsourcing the office functions to an external company you make the first step towards optimizing your costs and thereby give yourself the opportunity to eliminate unnecessary time and expenses in recruiting a staff member. There are no obligations to salaried worker i.e. PRSI or Pension. With LET US DO ALL THE WORK you pay for specific tasks only, NOT for the presence of the employee in the office.
LET US DO ALL THE WORK will do just about anything for you that does not require us to physically be there and you may be surprised about just how much that is!
Key benefits of hiring LET US DO ALL THE WORK are:
We focus on Quality, Efficiency & Trust!
Flexibility – we can easily adapt to your current needs
Individual – Approach to each Client
Availability – Contact 24/7 via Website, Gmail and Social Media
Discretion – The contract between us "LET US DO ALL THE WORK" and our Clients includes confidentiality
Settlement – For specific services or packages
Save Money – NO holiday pay, PRSI, sick days…
We also provide Administrative Service to Community Groups and Families.
Dee and Joanna
YOUR VIRTUAL ASSISTANTS
LET US DO ALL THE WORK
https://www.facebook.com/letusdoallthework/
Business Address
Edgeworthstown
Co. Longford
Long Business Description
Affordable, flexible office solutions, meeting rooms, hot desks, training & event spaces, to support and scale your business
Business Address
5 Main Street
Edgeworthstown
Co. Longford
N39 AH64
---