Pastoral message by Bishop Francis Duffy March 2018 LIFE IS BOTH SACRED AND A HUMAN RIGHT
Choose Life 2018 Newsletters
Bishop Francis Duffy pastoral letter March '18

Life is precious
Amidst all the rich variety of life on earth, human life is cause for special wonder. We alone can contemplate the beauty around us. We alone can create art and music and literature to express this beauty. We alone can love one another.
Each human being has the capacity to experience and express this beauty and love in a unique way and, in doing so, to enrich others. We know that we did not create the beauty and the love around us. We know that we did not create ourselves.
When we say that human life is sacred we are recognising something that is sensed not only by religious people but by everyone who appreciates the wonder of human life. As human beings we depend on one another and so others have the right to expect something from us – it is the right to be recognised and respected and never to be treated as less than he or she is. That is true at every moment of our life – from its first beginnings to its natural end.
Every human life is beautiful, every human life is precious. Choose Life!
CHOOSE LIFE 2018 NEWSLETTERS:
Choose Life 2018 is a new weekly newsletter for parishes,
It is designed to encourage discussion in families on the value of every human life.
Each week the newsletter will follow the development of 'Baby Bump' based on the milestones from conception to 12 weeks gestation. Choose Life 2018 will also feature prayers, testimonies, questions and answers and links to helpful resources on the right to life.


Issue 1:
ChooseLife2018 Issue 1


Issue 2:
ChooseLife2018 Issue 2


Issue 3:
ChooseLife2018 Issue 3


Issue 4:
ChooseLife2018 Issue 4


Issue 5:
ChooseLife2018 Issue 5


Issue 6:
ChooseLife2018 Issue 6


Issue 7:
ChooseLife2018 Issue 7


Issue 8:
ChooseLife2018 Issue 8


Issue 9:
ChooseLife2018 Issue 9
ChooseLife2018 Issue10


Trocaire Lenten Campaign 2018
Working for a Just World
Trócaire provides humanitarian assistance and long-term support to communities in over 20 countries across Africa, Asia, Latin America and the Middle East. Last year, 2.6 million people directly benefited from our overseas programmes. In Ireland, we raise awareness about the root causes of poverty and inequality, and campaign on justice issues.
Trocaire boxes are available in our churches from this weekend.

Recent Baptisms ~ Recent Deaths (2018)
Recent Baptisms and Deaths
We welcomed the following children into our Christian commmunity in recent weeks:
~ January 2018 ~
Louis Coleman Skelly, Skerries & Edgeworthstown
Amanda Pasanova, Shannon Park
Darragh Thomas McEntee, Cranley and Lucan
Alex Michael Hussey, Carrickboy

~ February ~

Luka Vincent Daly, Bracklin
Ema Dapkus, Devine Crescent
Thomas Sean Reynolds, Gneeve

~ March ~

Jason Daniel Greene and Megan Kate Greene, River Park, Edgeworthstown
Noel Patrick Brian Stokes, Corboy

~ April ~

Maya Ogbodu Idomele, Back of Main Street
Milo Noel Heslin, Chestnut View and Dublin
Lawrence James Goehlert, Chestnut View and Dubai
Ava Maria O'Kane, Abhainn Glas
Saoirse Laura Harvey, Garryandrew and Essex
Charlie Salinger, Cloverwell Close
John Paul Comiskey, Shannon Park
Mia-Rose Burke Jones, Wolfe Tone Court

~ May ~

Bryan Machado, Lisogue
Lylah Rose McEntire Whelan, Springtown, Granard

~ June ~

Charlie Michael Mulkearns, Cam
Sean Christopher Nolan, St. Patrick's Terrace
Jake Damian Wenman, Cloverwell
Mason Niall Kenny, Devine Crescent

~ July ~

Vayda Brenda Lynch, The Avenue, Mullinga
Ava Kate Walker, Lisnanagh
Jayla Josephine Nina Wenman, Kilbride Park
Michael Dennis Stokes, Oakvale, Longford

~ August ~

Robert Owen Holwett, Coolamber and Lucan
Brooke Nova Gilchriest, Devine Crescent
Lucy Margaret McLoughlin, Kilsallagh
Amelia Rose Conway Kenny, Lackan and Royal Canal Avenue, Longford
Shauna Frances Mary Flynn Little, Mostrim Oaks
Méabh Siobhan Flanagan, Mullingar
Jack Dean Canning and Mason Carter Canning, Cloverwell

~ September ~

Megan Ann Kelly Hallinan McCauley, Breaghy, Ballinalee

~ October ~

Liam Stephen Ledwith, Devine Crescent
Síofra Ellen Geoghegan, Mostrim Oaks
Bryan Phillips, Shannon Park

~ November ~

Callum William Hussey, Auburn Park

~ December ~

Noel Edward McKenna, Cranleymore


Please pray for the souls of our recently departed:-

~ January 2018 ~

Nan Hughes (nee Keenan), London, formerly St. Patrick's Terrace
Sr. Columba Rattigan, Our Lady's Manor
Patsy Owens, Kilmore, Streete

~ February ~

Ciara Conefrey
Fr. Ned O'Hara, Lisryan

~ March ~

Ellen Cully nee McLoughlin, Bracklin who died recently in New York
Kathleen Mullen, formerly of Abbeylara who died recently in Manchester
Luke Kiernan, Boherquill
Joan Duffy, Dublin and Coolamber Manor
Sean Reilly, brother of Oliver Reilly, Coralanna, who died recently in America

~ April ~

Helen Kearney, Granard Street
Josie Carroll, Aughafin
Lily O'Farrell, Corboy
Nora McLoughlin, wife of James McLoughlin, formerly of Granard St., who died in London on Monday 9th April. Burial will take place in London

~ May ~

Thomas (Tommy) Keenaan, Aughnageera
Elizabeth (Liz) Devine, Kenagh, formerly of St. Patrick's Terrace
Brendan MaGuire, Rathowen
Eugene Heavey, Ardagh Parish who died recently in North Carolina
Brian (Barney) McBride, Glenageary, Dublin and formerly Edgeworthstown

~ June ~

Tommy Keary, originally from Clonkeen who died recently in Canada
Eileen Loughrey (nee Heavey), Cadamstown, Broadford, Co. Kildare and formerly of Edgeworthstown
Sr. Reena Dawson, Shalom
Colin Donegan, Lisnagrish
Thomas Kearney, Granard Street

~ July ~

Tom Blessington, Lisryan
Sean Nolan, Devine Crescent
Patrick (Paddy) Kiernan, Cam

~ August ~

Rachel McHugh, Rinnenny
Christina (Ina) Marshall, Kilsallagh

~ September ~

Monsignor Albert McCabe, Kilsallagh and Diocese of Raleigh, North Carolina, U.S.A.
Sr. M. Marcella Geraghty, Branford, Connecticut and originally from Fermore
Kenneth Vale, Corboy and Bristol
Rose Farrell, Winetown, Rathowen
John Grimes, Lisnageeragh

~ October ~

Marcella Farrell, Fairy Hill, Rathowen
Hugh Brady, Garryandrew
Joan Ryan, Ardnacassa, Longford (sister of Mary Minogue)

~ November ~

Rutledge Healy, Killianiker, Rooskey (Father of Fr. Tom Healy)
George Scott, St. Patricks Terrace
Baby Bobby Jay Rooney, Tinenaire
Patrick (Pat) Gilchrist, London and formerly Cullyvore
Eileen Clancy, Rathaspic, Rathowen
Bridget McNamee (nee Smyth), Newry and formerly Cappagh, Rathowen

~ December ~

Michael Griffin, Limerick formerly of Lismacaffrey (brother of Stephen Griffin)
Tommy Nolan, Main Street
Aggie Ward (nee Reynolds), Longford and late of Barne
Joe Nolan, late of Lacken who died recently in Manchester
Recent Baptisms ~ Recent Deaths (2017)
Recent Baptisms and Deaths
We welcomed the following children into our Christian commmunity in recent weeks:

Johanna Mary Stokes, Lisnanagh
Áine Irini Xanthidis, Aughafin and London
Emilija Daukautiene, Shannon Park
EllenMarie Mary Staken, Tubber, Granard
Alyx Healy, Clonwhelan
Alexander Nathan Keating, Cloncaugh
Isobel Marianne Glennon, Cranleymore
Abigail Nova Vancane Heavey, Glenn Riada, Longford
Mathew Sean Pakalnis, Clover Well

Please pray for the souls of our recently departed:-

~ January 2017 ~
Cormac Malervy, Lisnageeragh
David (Dave) Nolan, St. Patrick's Terrace
Ina McCormack (nee Dimond), Longhill, Coolarty
Abilio Silva, Portugal
Jennie McGivney, Granardkill, Granard (mother of John Noel McGivney, Multyfarnham)
Margaret Daly, Streete (grandmother of Michelle Lynn and Christopher and Oliver Daly)
Michael (Mike) Duffy, Mace, Rathowen
Margaret (Peggy) Daly, Streete village
Lorette Newman, Coolnagun, Lismacaffrey
Peter Kiernan (brother of Fr. John Francis Kiernan), Keel, Moydow, County Longford and Aughavas, County Leitrim
Thomas Reilly, Killasonna, Granard
John Massocca, America
Fr. David (John) Conlon OSB, Glenstal Abbey, Murroe, Co. Limerick
Gertie McEnroe (nee O'Reilly), Pound Street
Margaret Carroll, Castlerea, Co. Roscommon (mother of Michael Carroll, Cloverwell)
Patrick Farrell, Ballinalee (brother-in-law of Eileen Glennon, Granard Road
Sean Logan, Devine Crescent
Maureen Keary, Tinode, Streete

~ February ~
Evelyn Barron, Aughafin and formerly Cahir, Co. Tipperary
Joe Byrne, Deanscurragh, Longford
Partrick Bannon, Ballyjamesduff (nephew of Margaret Eivers, Bracklin)
Briget Curran, The Manor and formerly Aughavas, Co. Leitrim
Patricia Tierney, Drogheda, Co. Louth (sister of Clarrie McCann, Liscahill)
Fr. Tadg Kenny SM, Fermoyle, Lanesboro
Fr. Tom Colreavy, Dublin & Gortletteragh
Sr. Cyril Keena, The Manor and a native of Carrigeen, Clonmacnoise, Co. Offaly
Theresa Cox, Cappagh, Ballinalack
Michael (Mick) Tighe, brother of Paddy Tighe, School Lane, Rathowen
Josephine Duffy, Drumlish, Lismacaffrey and her daughter Mary Raven who died recently in England
William Joseph Clancy (father of Catherine Greene, Lisanure)
Ellen (Nell) Greene (née Farrell), Magheramore, Wicklow and late of Marian Avenue
Philip Sullivan, Wolf Tone Court and formerly of Tuosist, Kenmare, Co.Kerry

~ March ~
Maria Bikarova, Abainn Glas and formerly of Prakovce, Slovakia
Christina (Chrissy) Dale (nee McCormack), Mullingar and formerly of Glen (sister of Theresa McCormack, Glen, Ardagh)
Kitty Keane, Rathaspic
Rosemary Barden, Kilmore, Kilashee, Clonguish (sister of Claire Carroll, Cloverwell and Ita O'Farrell, Corboy)
Jimmy Reilly, formerly of Drumlish who died in New York (brother of Margaret Devine, Cullyvore)
Kevin O'Toole, formerly of Lisnageeragh who died in England (brother of Chrissie Butt)
Ann Sheridan (nee McGlynn), Lisnagrish
Rose Furneaux, Bracklin Road
Damien Wenman, Cloverwell
Kitty Clancy (nee Duffy) Ardbohill (mother of Catherine Greene, Lissanure)
Margaret Lynch, Corboy and formerly Killucan
Michael Keenan, Great Water Street, Longford
Molly Delaney, (aunt of Philomena Donohue)

~ May ~
Tom Stakum, Devine Crescent
Fr. Paschal (Joseph) Slevin O.F.M. Franciscans, Dublin and formerly of Ballynacargy
Brigid Farrell, Corboy
Teresa Conville (nee Dalton, sister of Kathleen Flood, Glen)
Mary Farrell (nee Brady), Carnan, Ardagh
Michael McGovern, Butlersbridge, Co. Cavan (brother of Bartley McGovern, Cam)
John Daly who died in Coventry, England and was originally from Russagh
John Smith, Rhenneny
Catherine (Kitty) Hanly, Kinnegad and formerly Monadarragh
Susan Gilsenan (nee Houghton), St. Patrick's Terrace

~ June ~
Sr. Mechtilde Curran, Convent of Mercy Longford and Our Lady's Manor
and formerly of Spiddal, Co. Galway
Michael Heslin, Shroid and formerly Ballinamuck and Aughavas
Joe Marlow, Kenagh (brother of Kitty Mulryan, Lisanure)
Malachy Fay, Lilliput Road, Rathnamuddagh, Dysart, Co. Westmeath (brother of
Angela Tuite, Bracklin Road)
Mary Kate Fox (nee Reilly), Lisnanagh
Betty Hayden, Castlepollard (mother of Joanne McCabe, Cranley)

~ July ~
Fr. George Balfe, Longford Road, Rooskey, Leitrim/Longford
Thomas (Sonny) Flood, Mullinalaghta
Eileen Hughes (nee Ward), Ballinalee

~ August ~
Philip (Phil) Smyth, Granard
Geraldine Donohoe (nee Palmer), Granard
Josephine Donlon (nee Benson), Main Street, Edgeworthstown and formerly Athlone and Portlaoise
Oonagh O'Sullivan (nee Kelleher), Cahir, Louisburg and Kilfaul, Partry and formerly of Aughintemple
Josephine (Josie) Logan, Devine Crescent
Paddy Turley, Glynwood
Cathy Meehan, Drumcondra, Dublin and Streete
Thomas Kane, Oceanside, New York and formerly Corboy

~ September ~
Jimmy O'Hara, brother of Brian, Killoe
Mary Greene, Devine Crescent

~ October ~
Angela Rea, Lacken
Sean Logan, Church St.

~ November ~
Elizabeth (Eilish) Carrigy, Corrydonlon, Rathowen
Brigid O'Hara, Kilsonna, Granard
Alex Kane, Greenview
Irene Colgan, Lissard
Mary Reilly, Balloo, Lisryan
Sean Doyle, Ringowney

~ December ~
Elizbieta Milczarek, Clover Well
Joseph Reilly, Cam, formerly Aughafin
Dympna Murray-Fennell, Lucan, Co. Dublin, formerly Corry, Rathowen


Clerical Changes - September 2017
Clerical Changes – September 2017
A number of Clerical changes have been made by Bishop Francis Duffy effective September 1st, 2017.
Frs. Seamus McKeon, Pat Lennon and our Pat Kiernan have all been granted sabbatical study leave.
Fr. Kiernan travels to California where he will be engaged in Parish Ministry in the Diocese of San Diego. During this time he will also have the opportunity to attend a course of study in San Diego. We wish Fr. Pat the very best while he is away.
We welcome Fr. Tom Healy to our parish. Currently administrator in Longford he is to take over as the new parish priest in St. Mary's Edgeworthstown and as the Diocesan Secretary and Financial Administrator.
Other changes include Fr. James McKiernan, CC Boher who is to become Administrator in Longford while
Fr. PJ Higgins will return from Ecuador to become CC Boher.
Additional responsibilities have also been bestowed on other priests within the diocese.
Fr Tom Murray PP in Clonbroney will become Director of Planning, while Fr Seamus O'Rourke, CC Carrick-on-Shannon has been appointed Vocations Director.
Fr Pat has left us the following note:
WORD OF THANKS
I would like to exprees my sincere thanks and appreciation to everyone for their support, help and generosity during the last two years. At this time your kindness, good wishes and prayers are very much valued and appreciated. I pray that Jesus the Good Shepard will bless, protect and guide you and your families today and always. Please remember me in your prayers. I promise to do likewise for you. Beannachtaí agus Buíochas.
Fr. Pat
Presentation and Tribute to Kevin Greene
Mary Greene R.I.P.
Tribute to Kevin Greene and to Mary Greene (R.I.P.)
On Sunday August 21st 2016 in St. Mary's Church, Edgeworthstown at the end of 10.00 a.m. Mass we read a tribute to Kevin Greene. Surrounded by his family and grandchildren we presented him with a Genesis crafted Nativity set.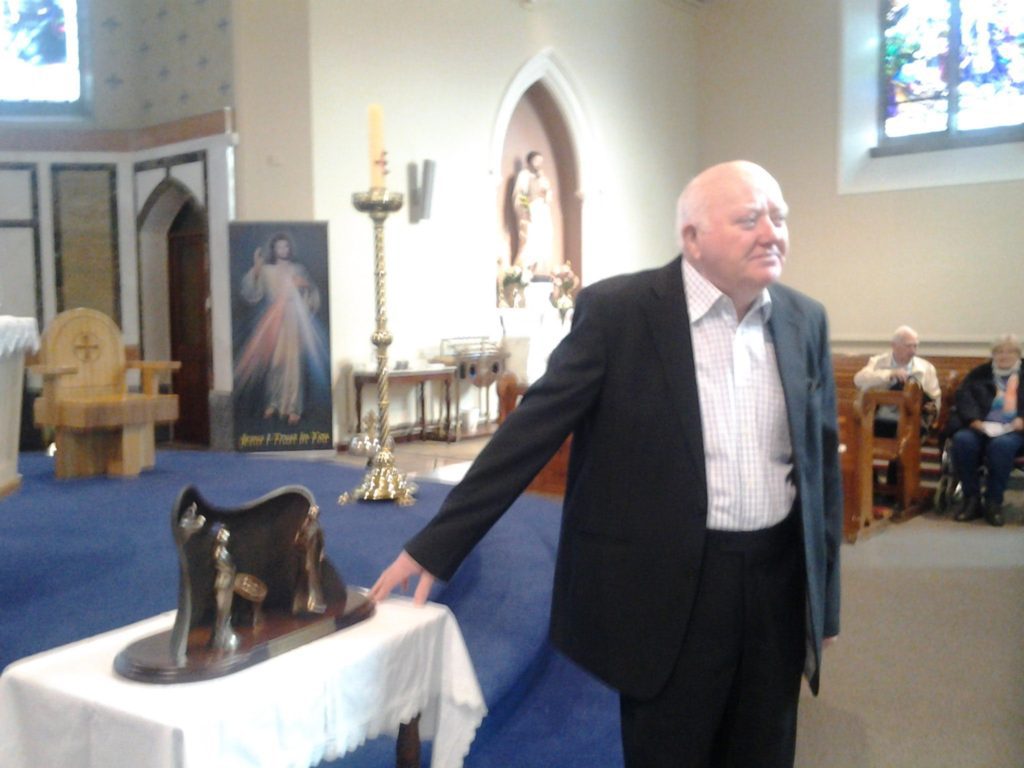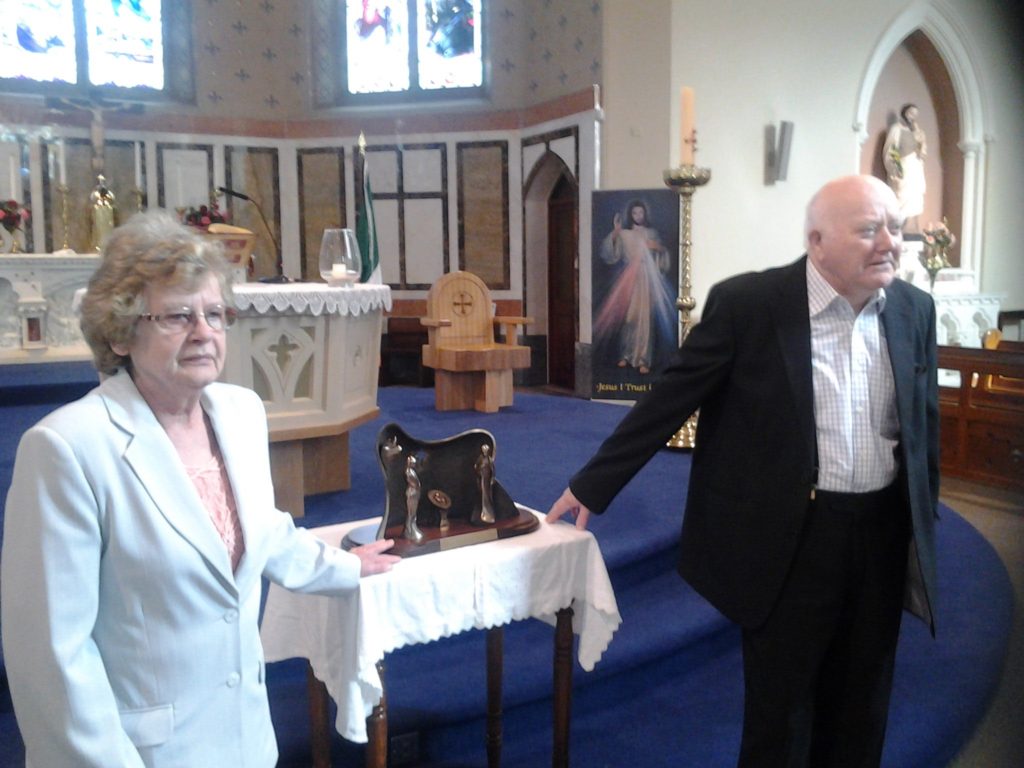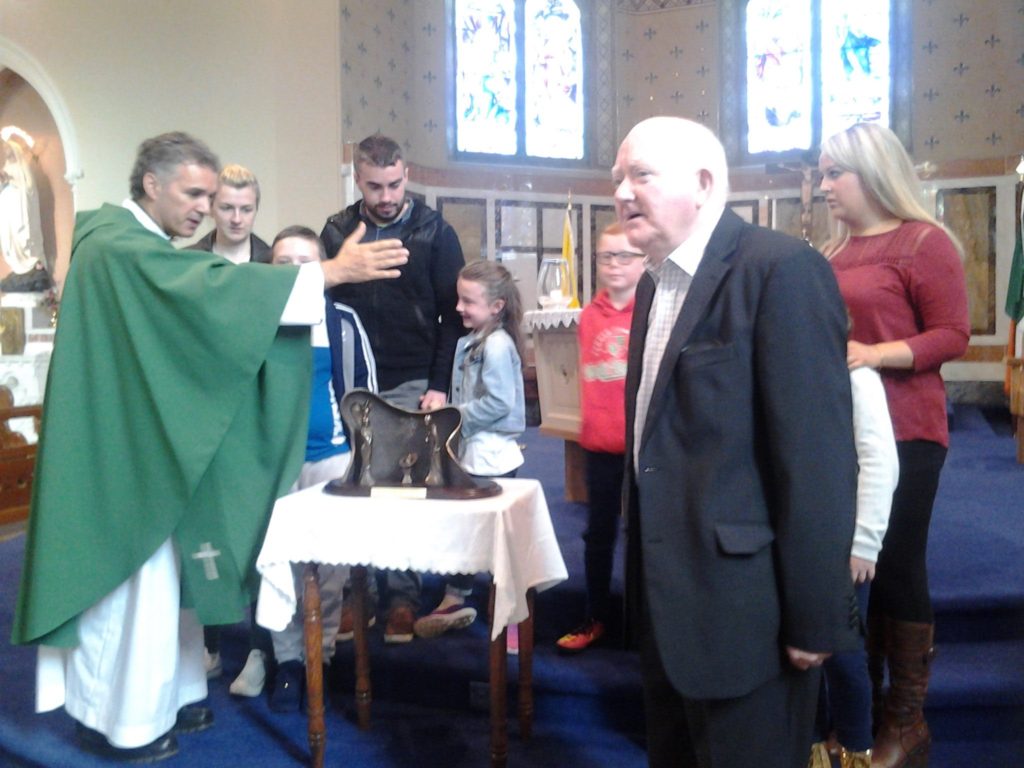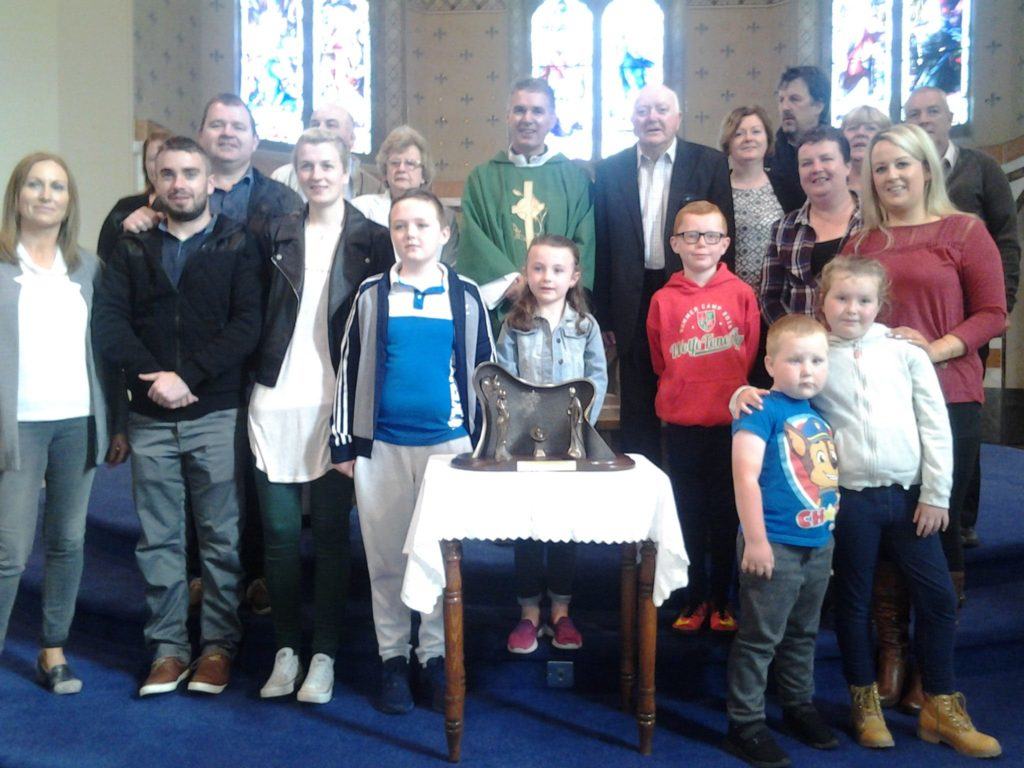 Tribute to Kevin Greene
This morning we are going to take a few moments to acknowledge and pay tribute to our Parishioner, Kevin Greene, who gave freely of his time and expertise to our parish of St. Mary's, Mostrim for the last 27 years
When volunteering for a job, sometimes one actually volunteers, or as often happens, one is volunteered. Either way, one usually concentrates on the job in hand, not looking ahead, taking one day or one week at a time. As one week follows the previous one, the weeks become months and soon enough a year or two passes by.
In Kevin's case, he volunteered and served this Parish diligently, conscientiously, quietly and efficiently during the last 27 years. During this time, he was a wondrerful help and support to the many Priests who have served in this Parish, namely, Fr. Christopher Stapleton, Monsignor Patrick Early, Fr. John F. Doyle, Fr. John Francis Kiernan, Fr. Charlie Healy, Fr. Hugh Turbitt, Fr. Jim Sorohan, Fr. Patrick Murphy, Fr. Michael Bannon and Fr. Patrick Kiernan. He also worked closely with Sacristans, Joe Breaden and his good wife Mary.
For the last 27 years Kevin was responsible, with the assistance of other generous volunteers, in collecting and counting the Offeertory Collection here at St. Mary's, Mostrim, which you the Parishioners so generously and faithfully support, every week of the year.
It is with gratitude and appreciation that we would like to recognise your wonderful contribution to our Parish and we would like to acknowledge all of those who give of their time so generously to volunteer and to serve the various roles in our Parish. On this August morning, we would like to make a presentation to you Kevin on behalf St. Mary's Parish, in recognition and appreciation of your dedicated and loyal service for the last 27 years.
We would like to take this opportunity to wish you health and happiness now and in the future.
Beannachtaί agus Buίochas
St. Mary's Parish, Mostrim, Co. Longford – 21st August 2016

~~~~~~~~~~~~~~~~~~~~~~~~~~~~~~~~~~~~~~~~~~~~~~~~~~~~~~~~~~
Mary Greene R.I.P.
It is with a heavy heart that we record the death of Kevin's wife Mary, peacefully at home in Devine Crescent (formerly of Drumeel, Ballinalee) on September 14th 2017 after a short illness. It was a kindness that she was not allowed to suffer for a long period. As we know The Lord works in mysterious ways. It was his way of saying to Mary "Good and Faithful Servant, your time to enter the Kingdom has come". He gently opened the gates of Paradise and welcomed Dear Mary home.
Mary served as Sacristan in St. Mary's church, Edgeworthstown for 13 years. She succeeded Joe Breadan and served under the following priests/parish priests:
Monsignor Patrick Early, Fr. John F. Doyle r.i.p., Fr. John Francis Kiernan r.i.p., Fr. Charlie Healy, Fr. Hugh Turbitt, Fr. Jim Sorohan r.i.p., Fr. Patrick Murphy, Fr. Michael Bannon and Fr. Patrick Kiernan – she just missed working with Fr. Tom Healy, newly transferred from St. Mel's two week's prior to her passing. She also assisted Fr. Peter Beglan, Cannon Jerry McAuley r.i.p., Fr. Cieran McGovern, Fr. Joe McGrath and Fr. Nigel Charles.
Her passing has left a very big void in her family's lives, those of husband Kevin, sons Gerard and Philip, daughters Rosemary, Noeleen and Catherine, grandchildren, great grandchild, sons-in-law, daughters-in-law, brothers Tommy, Jimmy, Robbie, Mickey and Joe, sisters Róisín, Ita, Bridget and Ann, brothers-in-law, sisters-in-law, nephews, nieces, cousins. As it has to the community of friends who all loved Mary
Mary's great loves included her husband and family and her work in the church. While her attention to detail ensured all services ran smoothly she always made time to chat with neighbours and friends. Several times each day – hail, rain or shine – Mary walked from home through to the other end of town to her devine calling, her church. She also facilitated those of us who counted the collections and banked them.
Mary was the mainstay of our church for those thirteen years, her total dedication and love of her work radiated from her. She truly loved what she did and we owe her a deep gratitude.
It is a great tribute to the Greene family that Kevin served us for twenty seven years, Mary for thirteen years, Gerard has filled in as sacristan during and after Mary's illness and Philip acts as funeral usher.
Requiescant in Pace
Ar Dheis Dé go raibh a n-anam
May she rest in peace and rise in glory
Pastoral Letter March 2017 - Bishop Francis Duffy
Pastoral Letter March 2017 – Bishop Francis Duffy
Sustaining our Faith Community
in the Diocese of Ardagh and Clonmacnoise
Dear Parishioner,
I write to you concerning the reality that the Diocese of Ardagh and Clonmacnois has, and will continue to have, fewer priests ministering to the faithful.
I know that many of you who read this are now or have been involved in many ways in your parish church community as Ministers of the Word, Extraordinary Ministers of Holy Communion, members of Parish Pastoral Councils, Parish Finance Committees, Ushers, Altar Servers, Safeguarding, Eucharistic Adoration groups, sacramental preparation teams, in addition to the long established choirs and the committees and individuals who maintain churches in such good order. There are many other invaluable local initiatives that you have undertaken such as hospitality at times of funerals, raising awareness of local identity through events and publications and outreach and support to those who have various pastoral and spiritual needs.
At diocesan level we have a Diocesan Pastoral Council, a Diocesan Liturgy Commission, Finance Committee, Accord, Safeguarding Committee, Diocesan Advisors in Catechetics and the Saint John Paul II Awards for young people. The two most recent initiatives are the introduction of the Parish Catechist and the Permanent Diaconate.On behalf of our diocese, to each and every one of you, I offer my blessing and heartfelt gratitude.
As you are aware, in the midst of all these positive developments there has been a steady decline in the number of our priests. Many of you will fondly remember when there were two or three priests working in your parish and where now there is only one.
Three of our parishes do not have a resident priest. This trend of a declining number of clergy is set to continue. At the moment we have 52 very dedicated diocesan priests in our parishes but sadly no seminarians preparing for ordination.
In addition we have four priests from abroad and from missionary congregations who are working in the diocese. This means we have a declining, and an ageing, group of clergy.
From both a pastoral and a duty of care perspective, it is important that responsibilities our clergy now carry are shared with parishioners even more so than at present.
By 2030, over the next 13 years, 28 of our 53 diocesan priests will reach the retirement age of 75 years. By the time children baptised this year reach Confirmation our diocese will be a very different place.
Number of Diocesan Priests
Number of Parishes
2017
53
41
2030
25
41


These statistics tell us that from this year on, as our priests retire or are transferred, there will not be priests to replace them and so an increasing number of parishes will not have resident clergy. In the very near future your parish may not have a resident priest, or if you have, then your priest may be called on to provide pastoral care in a neighbouring parish that is without a resident priest. This ongoing development will impact every parish in the diocese and will bring about considerable change in how the parishes are organised and also in the way the Good News of Jesus Christ is passed on to succeeding generations.
Critically, there will also be an impact on the workload of priests and their welfare is our concern in this changing context.
The Catechism of the Catholic Church states "the Sunday celebration of the Lord's Day and his Eucharist is at the heart of the Church's life".
The Sunday Eucharist and the celebration of the sacraments and the pastoral care of people are of central importance for every parish. As a consequence, consideration needs to be given to developing and enabling parish faith development and pastoral care to continue and to flourish with fewer priests and with greater involvement of parishioners.
This is not about closing churches but about reimagining how we worship and pass on our Christian faith.
At this time you and our priests have a unique and precious opportunity to serve the Lord by encouraging and engaging with each other to prepare for and take on responsibility for the formation, promotion and practice of the faith at local level in changing circumstances. We continue to pray for and promote vocations to priesthood and religious life. A time of decline in one area can be an opportunity for growth in other areas. I firmly believe the Lord is with us in change and will provide opportunities for the local church communities to continue to flourish in new ways.
I invite your support as we prepare for a future that will differ greatly from the past in terms of how we worship as a faith community. I therefore ask each of you to consider carefully these matters and
I would greatly welcome your input and suggestions directly, or through your Parish Pastoral Councils, as we seek to meet this challenge together under the guidance of the Holy Spirit.



+Francis Duffy
Bishop of Ardagh and Clonmacnois
Post: Saint Michael's, Longford, Co Longford, N39 Y4X5
Email contact: ardaghdi@iol.ie



The Parishes of the Diocese of
Ardagh & Clonmacnoise
Trocaire Lenten Campaign 2017

"What kind of world do we want to leave….
to children now, who are growing up?"
Pope Francis – Encyclical Letter Laudato Si

Lent 2017
Miriam Marivel Campos Perez (30) and her daughter Maria José Gonzáles Campo (6) stand beside one of the houses ruined by rising sea levels, beside their coastal house in Cuyamel, Omoa, Honduras.
The neighbourhood sits on a sandbank between a river and the Atlantic Ocean. When bad weather hits, the ocean moves inwards and the river swells until the entire sandbank is covered in water.
"It's really sad when I come back and see how my house looks. I want to run away and never return. The sea brings sand and is full of garbage that gets washed here from Guatemala." Miriam Marivel Campos Perez.
Miriam and her daughter Maria live just metres from the sea in Honduras. Their home wasn't always so close to the water, bur rising sea levels and violent weather means they are now constantly at risk of their small home being flooded and losing everything.
When you donate to Trocaire you're not just giving. You're directly helping struggling communities in their fight for justice. Trócaire is the overseas development agency of the Catholic Church in Ireland.
Trócaire was established in 1973 as a way for Irish people to donate to development and emergency relief abroad. Trocaire's dual mandate is to support the most vulnerable people in the developing world, while also raising awareness of injustice and global poverty at home.
Trocaire's work is guided by Catholic Social Teaching, recognising the inherent dignity, worth and human rights of all people, as well as the importance of acting in solidarity with each other and in caring for our shared environment.
Trocaire support regardless of race, gender, religion or politics.
To learn more about Trocaire's work visit
www.trocaire.org
Parish Finance (2016)
Financial Statement 2016, St. Mary's Parish Edgeworthstown
---